JPMorgan Chase CEO denounces bitcoin as 'terrible,' predicts its downfall Published time: January 23, 2014 22:33 Get short URL JPMorgan Chase & Co Chairman and CEO Jamie Dimon.(AFP Photo / Chip Somodevilla) Tags Bitcoin , Law , Politics , Security , USA The head of the largest bank in the US said Thursday that bitcoin is a "terrible store of value," in part because international governments, ba...
TigerDirect , a major online retailer, has started accepting Bitcoin as a payment option on their webshop with more then 200,000 products. Th...

I think my experience at the meetup is worth sharing because Bitcoin lies at the heart of both finance and tech, two industries that carry tr...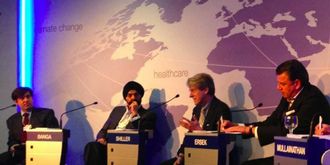 Joe Weisenthal, Business Insider Nobel Laureate economist Robert Shiller is on a panel at Davos about digital trends in financial markets. Almost immediately he started talking about Bitcoin. He says that he finds it to be an "inspiration" because the computer science. But he's not into it as an economic advance. As a currency he says it's a return to the dark ages. Shiller is a student and exp...
At the Bitcoin 2013 conference in San Jose, Calif., last May, Michael Terpin noticed somethin...
Fancy Anywhere enables your visitors to buy things on Fancy directly from your own blogs and ...